I said if I ever got to 100 followers I would do a giveaway, so here we go!!
Since I sell Thirty One Gifts, I am going to giveaway a personalized All In One Organizer just like the one pictured below. Who doesn't love a personalized tote! They have 9 different patterns to choose from. Here are just a few.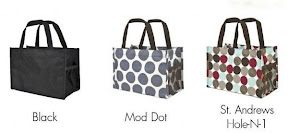 Click here to go to my website!
I also am going to giveaway some Willow House pound cake, because I love their products!!
Rules for the giveaway:
1. Become a follower of my blog and come back here and let me know!
2. Look at my online Thirty One Site and come back here to tell me what your fav item is.
3. Follow me on twitter (@SimplySara83) and leave a comment!
4. Last but not least, post your fav quote! ( I love quotes, LOL)
5. Also feel free to tweet or blog about the giveaway, and let me know if you do!
Winner will be selected by random.org
Haven't decided how long I am going to keep the giveaway open. I will make a future blog post where I will let you all know! Tentatively, I am going to say June 6, but this could change.